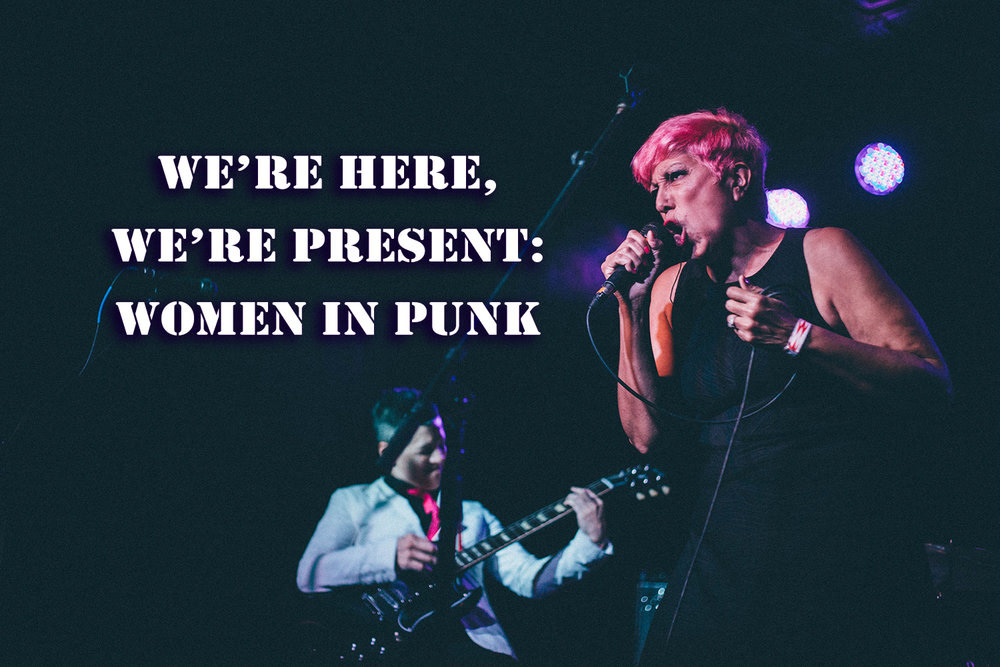 "We're Here, We're Present: Women in Punk displays the enduring strength of women and queer punks, as they reflect on how the legacy of the punk scene has influenced their music and attitudes."
– VICE
"A must-see for music lovers... this brief documentary exhibits the scene's raw spirit, growth, and seemingly everlasting endurance, proving once and for all that punk is NOT dead."
– BUST Magazine
"... this on-the-road slash behind-the-scenes documentary is as much a history lesson as a vibrant example of the power of radical music-making."
– Remezcla  
"an inspiring, badass documentary that should be required viewing for all of us"
– Girl Talk HQ
We're Here, We're Present: Women in Punk


a documentary with 1970s LA punk icon Alice Bag
& garage rock up-and-comers Leggy
(June 19, 2017 – Philadelphia, PA)

With just a small backpack of camera equipment and access to a few living legends, music journalist Amanda Silberling creates "We're Here, We're Present: Women in Punk," a fifteen-minute film that captures the complex and nuanced relationship between personal identity and the music it inspires. Available to stream on VICE, Silberling's film lays claim to the role women play in art, both in her chosen subject matter and by nature of the fact that she completed the entire documentary on her own. As drummer Candace Hansen says, "There's a political reason why we're making the noise we do." And the noise only rages on.
After headlining a benefit concert for the March to End Rape Culture, activist, educator, and musician Alice Bag remembers her roots in the 1970s LA scene: "The people who were seen as 'other' were actually the creators of punk," she explains. "We're the ones who defined it at the very beginning, and we made it so that everyone would feel comfortable."
On a week-long Midwest tour, Alice Bag is joined by Cincinnati lush punks Leggy for a string of performances that create a remarkable juxtaposition of punk past and present. Through behind-the scenes footage, interviews, and performances, "We're Here, We're Present: Women in Punk" explores the rapidly changing relationship between music and politics.
"[In the early 90s] I would go on a six-week tour and never see one other girl on stage with me," remembers Tracy Wilson (Positive No, Dahlia Seed). "So it's remarkable to be still playing music twenty five years later, and seeing this many ladies."
At only twenty-one-years old at the time of release, Silberling has dedicated herself to promoting feminism in the arts: she curates "Shifting the Gaze," an annual panel showcasing women in music, and in fall 2016, she led a series of anti-violence art installations that received viral national news coverage and acclaim from US Senators. She currently splits her time between Brooklyn and Philadelphia, where she is a photographer and writer. "We're Here, We're Present: Women in Punk" is her first documentary film
For further inquiries, please contact Amanda Silberling at asilb@sas.upenn.edu.